Member
Join Date: Dec 2007
Location: london, , UK
Posts: 71
Charity Rideout to Dungeness Sunday 11th Oct - UK
---
Hello chaps, we have a charity rideout to Dungeness from SLM in Caterham next Sunday, hope some of you can join us. This is an interclub event, with folk coming from various clubs, including knobblies, eurokclub, gixxerjunkies, tiger1050, advrider, etc.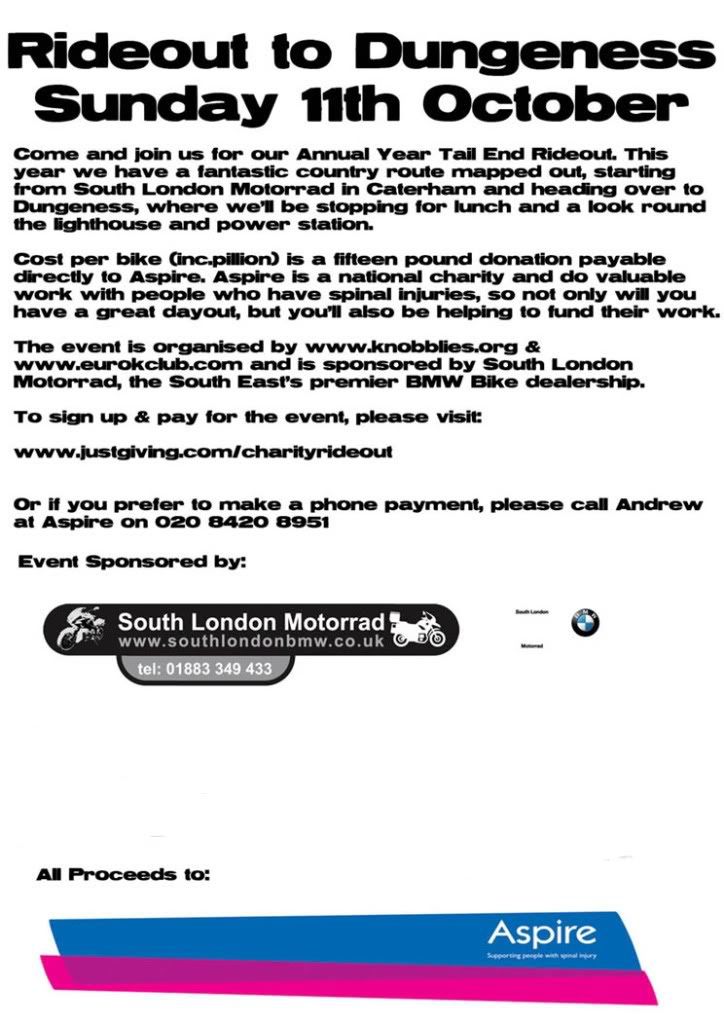 Just to give you an idea of the work that Aspire does across the country, a couple of case studies of people that Aspire have worked with are below:
Quote:
Steve Booker

I was up in the Sheffield for about five and a half months after my injury. Even while I was on bed rest I started to hear about Aspire and their work and I made sure I found out a bit more when I was up and about.

At the hospital I tried out quite a few wheelchairs Ė it was good to get a feel for the different types and see how they manoeuvred and felt when I was in them. When I left the Spinal Centre, though, I was given a standard NHS wheelchair and was encouraged to stick with it until I was certain about what wheelchair Iíd want long term Ė choosing one is a major thing and not something to rush.

Once I knew what I wanted I got in touch with Aspire to help with paying for it as the NHS just donít provide the sort of wheelchair I really needed. Through the Human Needs Fund they helped pay for a lightweight wheelchair that really meets my needs. Itís made to fit me and is much smaller and narrower than that NHS one. It has made such a difference Ė in the NHS chair there were doors in the house that I couldnít get through. And I went on a stag party to Ibiza and found that because the bathrooms in the hotel were so narrow I just couldnít get into them. Things like that just arenít a problem anymore.

The lightweight wheelchair I have now has given me much more confidence in getting out and about Ė knowing that Iím not going to have that difficulty in accessing where I need to be means that Iím more willing to head out in the first place. Whether itís getting into bathrooms and being able to turn around to close the door or pulling the wheelchair up into a car after me I feel that Iíve got my independence back.

I had my accident racing motorbikes and still miss the sport and want to be involved. Iíve always had an interest in the technical side of it and so joined a racing team running the data monitoring and analysis that is downloaded after the race. Itís been great getting back into the paddock and it takes me to races all over the country Ė the lightweight wheelchair gives me the confidence I need to do that and Iím looking forward to the challenges of the new season.
Picture of Steve ( Picture courtesy of Phil & Kathy Stanier)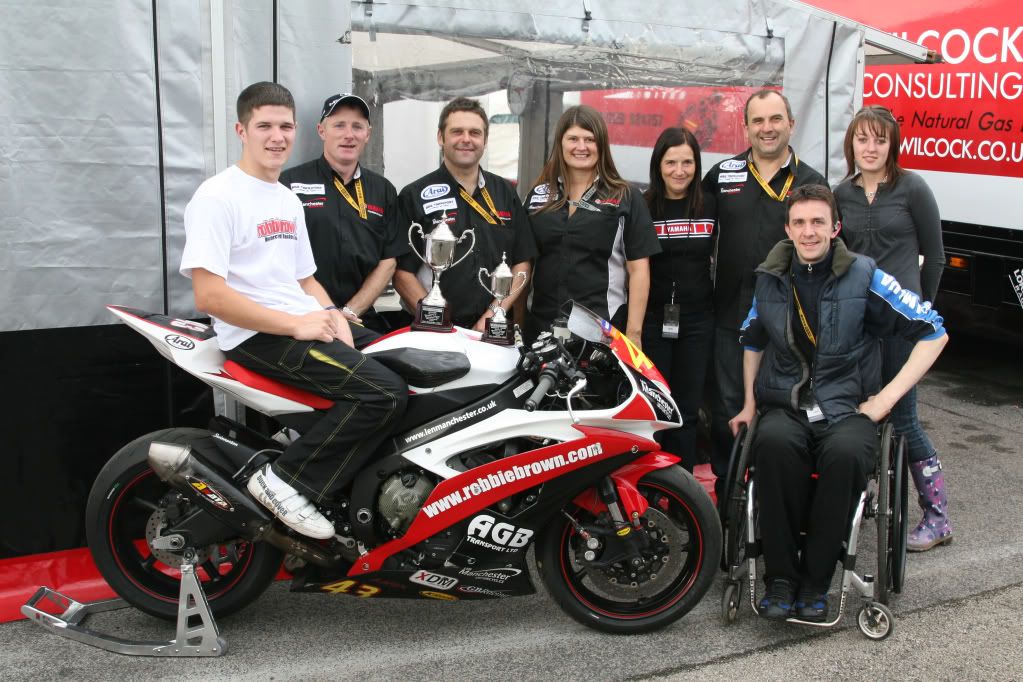 Quote:
Freddie Mahony


I was on my motorbike, waiting to turn at a junction. A driver coming the other way just didnít see me and hit me head on Ė I went through the windscreen before my back hit the roof and flipped me over the car. The impact broke three vertebrae at chest level, leaving me paralysed, along with my pelvis and my lower right leg which later had to be amputated. Fortunately the head injury I also sustained was only superficial. I was 19 years old.

I was in a coma for a couple of weeks, and was given loads of anaesthetics while they stabilised my injuries Ė Iíve got metalwork going half the length of my spine as well as in my pelvis and femur. It was only about a month after the accident that I started coming round properly and talking sense!

When I first got to the Spinal Injuries Centre I was in an isolation ward and didnít really see anyone. Then a bloke in a wheelchair came in and introduced himself, telling me he had the same level of injury as me. That was a real shock as it hit home what things were going to be like.

I got on with my rehab, but it was really when I first saw some blokes playing wheelchair basketball that I was really motivated to put some effort into it Ė they were racing around, shooting with amazing accuracy and I thought, ĎI want to do thatí. We had a bit of a makeshift basketball set up in the hospital and weíd get together to have a bit of fun. Iíd been a pretty good footballer before my accident but had never played basketball but it turns out I was a natural.

When I left hospital I signed up for a team and got myself a basketball wheelchair so that I could play seriously. As I improved, though, and played and trained ever more, I built my upper body up far more than it ever had been before. The wheelchairs really have to fit well and I was now too big for mine Ė every time I made contact with anyone else Iíd be tipped over. I needed a new wheelchair but couldnít afford the expense. Fortunately, I found out about Aspire and their Human Needs Fund and they helped me buy the new wheelchair that I needed.

Iíve just finished the first season with my new wheelchair and itís been brilliant. I train with the superleague team, but play with the firsts and seconds. In wheelchair basketball you need to be able to move quickly and turn well and my new chair lets me do all that. But best of all, of course, is the fact that it fits me so much better and so Iím not constantly being tipped over.
Picture of Fred: