New K1300S - re-use K1200R addons?
---
Hi all,
So, sadly I am parting with my 2005 K1200R (lovely machine, real character) and getting a 2011 K1300S for the comfort, smoother engine, longer gearing and general better suitability for distance travel (stopping short of GT territory!). I am looking to re-use some addons I acquired for the K1200R though:
-Remus Hexacone: I presume the actual slip on is the same for both K1200R and K1300S, could it be the case it just needs different collector pipes (I know there are Remus slip ons for K1300x with catalysers in for E-stamps but Im referring to the "noise legal" not road legal cans), any ideas? The slip on in question: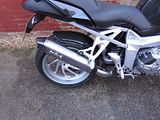 -Wunderlich rear hugger (also visible above) the one listed on their site for K1200R/S p/n 32160-001 and for K1300R/S is p/n 32170-001.. they look identical, I know this can be deceiving but if I have a bore out a screw hole by a couple of millimetres I'd prefer that to spending another £260!
Lastly if anyone has any two cents to chuck in regarding mods I should make, things to keep an eye on, preventative maintenance etc I am all ears