Senior Member
Join Date: Aug 2006
Location: Bloomington, IL, USA
Posts: 147
Interest In Frame Guards for K1200S/R/R Sport?
---
There's a gentleman on the V-Strom boards that makes frame guards that fit on the lower frame above the foot pegs where your boot rubs the finish. He would consider making the same thing for the BMW K1200S/R/R Sport if there's enough interest. Looks like the cost would be about $25. Here's a description from the V-Strom site.
"I first made these for my bike because I was concerned about scratching the frame by the foot peg area on my black '05 Strom so I designed and cut these protectors on my Plotter table at work. I was really pleased with how it turned out and thought other owners may be interested in them too.
The material is 12mil thick 3M protective film, available in black or Carbon fiber look."
Here's the thread if you'd like to read the whole thing.
http://11109.rapidforum.com/topic=106878370596
Here are some pictures of the guard on a V-Strom.
It would look similar to this on a K Bike. Just talking about the frame guard here, the heel guards are already available in the aftermarket.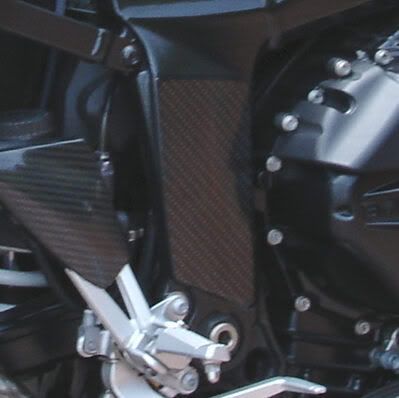 At this point I'm just seeing if there is enough interest for him to proceed with making a few sets. Post up if you think you'd buy a set.
Thanks!
---
Last edited by Jetpilot5; Jun 29th, 2008 at

12:00 am

.
Senior Member
Join Date: Aug 2006
Location: Bloomington, IL, USA
Posts: 147
I went back and edited out the GT from the post but I see it's still in the title. A little research shows the frame for the GT is a bit different so I'm not certain the frame protector for the KS and KR would fit. Sorry.