Addict
Join Date: Jun 2008
Location: New York, NY, USA
Posts: 676
FS: Motolights for K12/13GT
---
I have for sale one set of Motolights, polished aluminum finished,used from my 2008 K1200GT. These come with mounts for attaching to the brake caliper mount on your fork legs, down low to create a nice light triangle for visibility
They come with 35Watt bulbs, you can upgrade to brighter or LED's
Here's the link to the Motolights webpage:
http://www.motolight.com/product/Cal...%20Light%20Set
As you can see they cost $395 new.
And here are the installation instructions:
http://www.motolight.com/files/19537...structions.pdf
Here's a pic of what I am selling. I am including the wiring harness and switch, everything you need to install and use these on your KGT.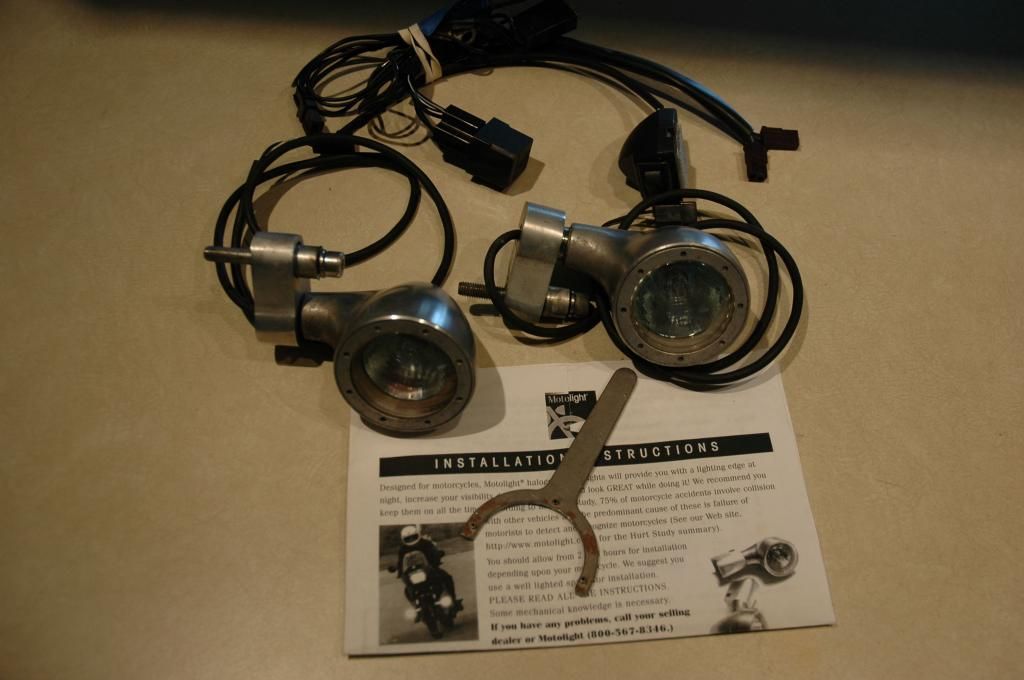 These are NOT NEW, they are used. The good news is you can easily polish them up to look better than new. They are very well made. I put new bulbs in recently.
For Sale for $200, plus $12 for USPS Priority Flat Rate Shipping in US. PayPal Only.
---
2008 K1200GT, Custom Paint, Vivid Black, Aeroflow WS & Aeroguards, Givi E52 Maxia Topcase w/AdMore Lighting, Zumo 660, Suburban Footpeg Lowering, Sargent Seat

2009 R1200GS Adventure, Magnesium Grey/Black, Adventure Cases, Zumo 660, Touratech Unobtanium Accessories

1974 Norton Commando 850 Soon to be a restoration project

Addict
Join Date: Jun 2008
Location: New York, NY, USA
Posts: 676
Sold!
---
2008 K1200GT, Custom Paint, Vivid Black, Aeroflow WS & Aeroguards, Givi E52 Maxia Topcase w/AdMore Lighting, Zumo 660, Suburban Footpeg Lowering, Sargent Seat

2009 R1200GS Adventure, Magnesium Grey/Black, Adventure Cases, Zumo 660, Touratech Unobtanium Accessories

1974 Norton Commando 850 Soon to be a restoration project