Discussion Starter
·
#1
·
Hi guys
so I have this thing I inherited from my grand mother where my hands go really numb and I can't feel my fingers when I say hold the throttle on for long periods ….riding a bike on longer trips I have to keep taking my hand off the throttle and swinging it beside me to get feeling back in my fingers …so I have tried all the different throttle things …you know like the plastic thing that you rest your palm on and the clamp thing that you swing down with your thumb and rests on the brake lever ..
the plastic palm rest thing does help and I use it …don't like the clamp one …k12s have a touchy throttle and that little bit it adjusts when you let go can change how the bike is riding dramatically ..it's just not accurate enough and has that slight throttle movement when you let go ..
so I found this cruise control unit , looks like you tighten a ring and then can just let go of the throttle and it will stay where it is ….from pictures I have seen I'm guessing it's similar in how it works to actual bmw cruise controls accept they seem to be located on the inside of the throttle next to the switch block while this is meant to be attached to the outside and has its Own bar end weight So it goes in place of the weight on the throttle side.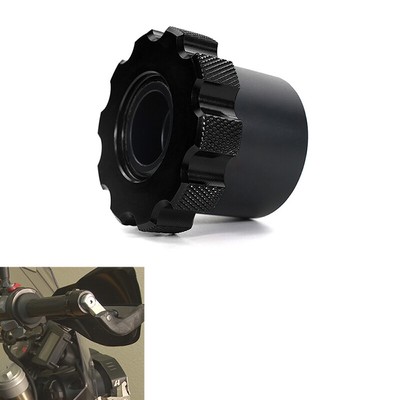 Note:This item is for Aftermarket use,NOT OEM product. Bookmark this item for more discounts. Motorcycle Throttle Lock Cruise Control made of CNC Machined 6063-T6 aluminum.While cruising, rider is able to remove hand from throttle grip, throttle opening will remain as set. Relax your hand and...
i know bar end weights work by lowering the resonant frequency of the handlebar ,..just finished reading an interesting thread here where someone was arguing against physics and saying you just add extra weight to your bike and they don't work ..yeah the 20 grams of extra weight is a real problem and the physicists have it all wrong, some people love to argue lol ….anyways
so I emailed the people that sell this thing to find out how heavy the weight is that is attached to this unit ….10 grams was the reply..
my concern is that it is not the same weight as the oem Bar end on the other side And will create an imbalance. to save myself having to get a small scale to weigh the weight anyone know off hand what the weight is of the stock bar end weights on a k1200r ? Anyone have any opinions experience With a unit like this good or bad why to or why not?
this very question is why I never got bar end mirrors as the ones I found went in place of the bar end weights and I did not want to remove them…